One of the many ways we strive to serve and satisfy our customers is by offering delivery within our region of Ontario. If you are within the region pictured on our map below, then you can take advantage of having your wood delivered right where you need it! We also have other services that you can look into for your convenience, including stacking and custom splitting. With Northern Hardwood, you can expect the best in quality and service. Call us today to place your order.
Serving Guelph, KW, Cambridge and surrounding areas.
*** We also service Toronto/GTA area customers at least 4 times every week with Great Prices!! ***
Toronto, Mississauga, Brampton, Oakville, Burlington, Milton & Georgetown
All wood is Dry Seasoned Hardwood Firewood.
Upon ordering, customers assume responsibility for providing a proper space and conditions for a Northern Hardwood truck to deliver the wood by dumping it off of the truck.
---
Toll-Free: 1-888-856-8696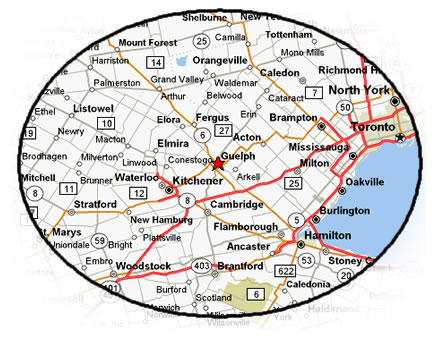 If you are outside this region but would like to inquire about delivery, call our office and we will do our best to find a solution.
Customers who pick up firewood from the wood lot assume responsibility for any damage that occurs when we are loading their vehicle with a loader, as per their request.
Northern Hardwood is released from any damage that could occur during the loading process.
35+ Years in Firewood Business